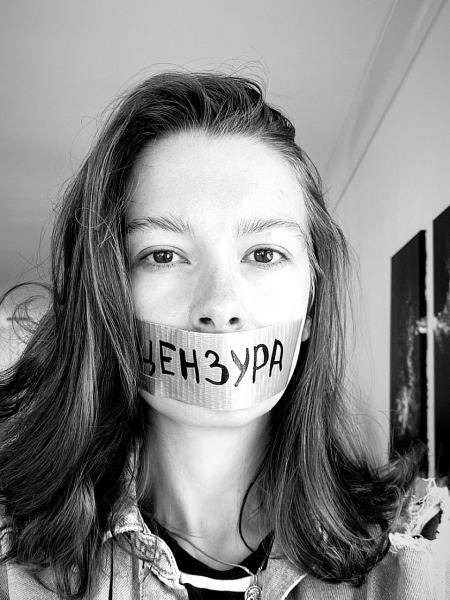 Aleksandra Degernes Brings Slavic Community Together in 'Difficult, Heavy, Dark Time'
By Wyatt Crosher, Communications Coordinator for Student Affairs
Featured photo: Aleksandra Degernes with the word "цензура," Russian for "censorship," taped over her mouth. Photo courtesy of Aleksandra Degernes.
For Aleksandra Degernes, a Russian-born US citizen at UNC Charlotte with family and friends still in her home country, this past month has been a whirlwind of emotions.
On February 24, Russian President Vladimir Putin announced a "special military operation" in Ukraine. Shortly after the announcement, there were reports of explosions in three of Ukraine's most populous cities: Kyiv, Kharkiv and Odessa.
In the weeks that followed, Russia has continued its invasion of Ukraine, leading to the deaths of hundreds of Ukrainian civilians, while forcing more than 3 million people to flee the country, according to the United Nations.
"It's been horrible. It's been a very difficult, heavy, dark time," Degernes said. "For the first week and a half, I cried every day. I have friends in Ukraine. I have family in Russia. I have people who were directly affected by the war, and the feeling of helplessness of me being here is a tremendous amount of worry."
Degernes came to the US from Nizhny Novgorod, Russia about 10 years ago, initially working in Los Angeles as an event production manager before arriving in Charlotte a few years back.
But not long after her move east, the COVID-19 pandemic hit, which had a major impact on Degernes' line of work. It led her to look for a change, and that meant a major in sociology and, ultimately, to her current position as vice president and communications director of the Slavic Business Association (SBA).
"My industry was completely destroyed by COVID at that point, so I started helping the Russian-speaking community in Charlotte," Degernes said. "There are lots of Slavic, Russian-speaking immigrants here. When I met people in the community, I started hearing lots of similar questions about integration, about building a career, professional adaptation, and I started doing lots of research.
"I started approaching lots of questions in terms of what people experience. Do they experience the same thing? Who integrates better or worse into the culture and why? Those are questions I would only be able to answer if I started my own research and took a sociology major."
The Slavic Business Association Board of Directors (from left to right): Aleksandra Degernes, Tatyana Shishkovskiy (Secretary), Tatiana Pisarski (Vice President, Co-Founder), Anna LaGrew (Treasurer), Christina Kalyakin (Assistant Secretary) and Ivan Rudnitsky (President, Co-Founder). Photo courtesy of the SBA Facebook.
Degernes' work with the SBA in recent weeks has opened her up to the experiences of many people from Slavic (Eastern European) descent involving the Russian invasion of Ukraine.
"These people are affected. I know people from Moldova in our community here in Charlotte, and they are affected as well," Degernes said. "It might not be directly, not like their families and relatives who may be suffering at this moment, but it's different levels of suffering, and we're not all in a good state."
For the past few weeks, Degernes said that members of the Slavic community in Charlotte have gone to protests together against the invasion, in order to have the country hear their voices and how they feel about the ongoing situation.
Along with her efforts in the SBA, Degernes has also worked with the International House of Charlotte to create a support group for those impacted by what is happening overseas.
International House is "a nonprofit dedicated to helping immigrants and international culture thrive" in the Charlotte community, according to its website. The goal of the organization is to enrich "the lives of immigrants, residents and the community of Charlotte through cross-cultural connections that foster understanding and fuel inspiration."
Degernes said it is crucial for the community to stay together in these difficult times, even if talking it out is something they are unaccustomed to.
"People in my culture don't talk a lot about feelings," Degernes said. "It's not easy to talk about what's going on, and they're all kinds of different people, so (International House) is creating a series of events where people can come and do something together as a community, all Russians and Ukrainians, is important. It's very important to keep people together and try to support each other and create that safe space."
Because of the stance of Putin, Degernes believes there could be some misinformation on the opinions of Russian citizens during this invasion. She said it's important to know the environment of her home country, and what happens to those who choose to oppose government actions.
"I see what's going on inside of Russia. My entire family is still in Russia, and what I would like to point out is why Russian citizens might not be doing a lot," Degernes said. "The regime is real. You get 15 years in prison for special operations propaganda. You get real time in prison for speaking out. Many people have already spoken out, it's just not on the scale of what free countries can do.
"When you have different media outlets in the US, you have critical thinking, and you can get out of your bubble if you want. You can't get out of your bubble in Russia, even if you wanted to. And if you do, you go to prison."
Degernes may not be in Russia, but she has been severely impacted by the ongoing events in Ukraine. She said she hopes that Charlotte knows that her community, regardless of what country they have ties to, stands strong in their opposition to the invasion.
"We are against the war. We want to stop the war as soon as possible. So we're trying to use all of our resources and brainpower in order to figure out ways we can help people," Degernes said. "I want people to know that we are supporting each other. That we are going to protests together. We are crying together. We just want this nightmare to be over."
For a list of resources to inform and guide people on various options to provide aid to Ukraine, via the SBA website.