Hometown:
Lumberton, North Carolina
Major:
Ph.D program in Curriculum and Instruction
CATO College of Education
---
Brittany Hunt is an Indigenous woman on a mission to educate others about Native history and modernity — and that is exactly what she is doing.
Brittany is a member of the Lumbee Tribe of North Carolina, the largest tribe in the state with more than 70,000 members. Growing up Native American in the small town of Lumberton, NC, she was surrounded by Lumbee culture. There, the Lumbee Tribe makes up 12% of Lumberton's 20,000 residents, and represents nearly 40% of the surrounding population in Robeson County.
So when Brittany left Lumberton for Durham, NC, at age 18 to attend Duke University, it was a bit of a culture shock.
"I was the only Lumbee on the entire campus and one of about five Native people," she recalled. "I was uprooted from this environment back home where I went to a Native church and I had a lot of Native classmates and teachers. I was planted into this environment where nobody was Native except me."
As a new undergraduate, it did not take long for Brittany to realize that the majority of her peers were not familiar with Native history.
"People would come up and ask me things like 'Do you live in a teepee?' or 'You wear shoes?'" she said. "They would ask me to speak my language, or tell me I don't 'look Native.'"
The experience was an education — in education.
"I began to see how the public school system has done all of us such a disservice when it comes to teaching about people of color, and Native people specifically," she said.
This was the beginning of Brittany's journey: to understand what students are taught in schools about Native people, to help students unlearn stereotypes, and to teach the true history and realities of Native life today.
Discovering Her Passions
"I feel like a lot of times when you're in the public school system, or even private school system, the things you learn about Native people are either nothing, or are completely false and fabricated narratives," Brittany said.
She cites a recent study that showed 87% of what is taught in high school about Native Americans is from a pre-1900s lens.
"People have this view that Natives don't exist in modern context. My passion is showing that we are still here, that we will always be here, and that we were also here before America was even America."
Brittany majored in psychology at Duke, then went on to receive her master's degree in social work from UNC-Chapel Hill. She is currently pursuing her Ph.D. in Curriculum and Instruction in the College of Education at UNC Charlotte. She chose UNC Charlotte because the program fit with her career goals and she could be close to family.
"I want to help people unlearn the stereotypes they learned in schools, and also prevent those stereotypes from being learned in the first place. I want to make sure we are teaching the true histories and the true realities of Native life today."
The commitment is personal, but also multi-generational.
"I knew that I wanted to pursue some sort of career that would allow me to correct those kinds of stereotypes so that my future children and grandchildren will hopefully deal with that less, if at all."
Influence of Family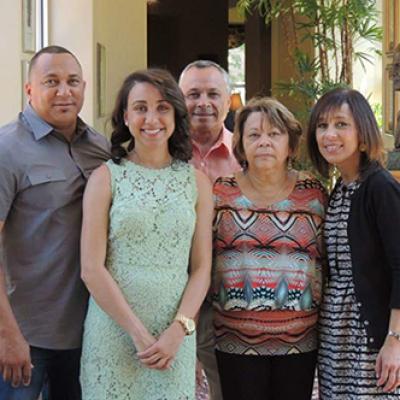 Family holds great importance to Brittany and in Lumbee culture.
"When I first went to Duke I would go home every single weekend and a lot of my classmates thought it was such an odd thing," she said.
This behavior is very common for Native people who leave their tribal communities, Brittany noted. "Home calls to us in a different way than your average or your typical college student. Even now, I go home a minimum of once a month."
She explained the differences in the idea of family between Natives and the general American public. For Brittany, her first cousin is more like a sister, and her children are like nieces and nephews. Grandparents are also an extremely important and vital part of family life.
"My grandmother was more than someone I saw a few times a year," Hunt said. "She was always there."
Surrounded by these close-knit relationships motivates Brittany to pursue her goals.
Up Next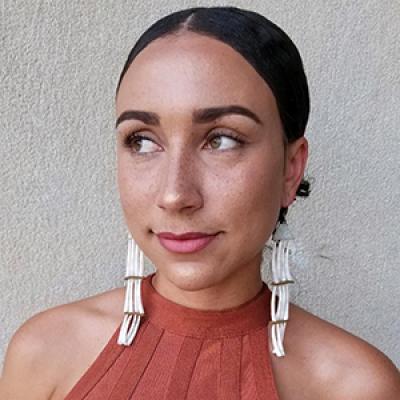 When asked about the future, Brittany said there is a lot she wants to accomplish, including higher education, making a mixtape, and continuing writing books.
"I just released a children's book and I would like to do more children's books, but also some other kinds (of writing) as well," she said.
She expects to graduate in May 2021 and plans to become a full-time professor, ideally in the Charlotte area. She also plans to get married.
This month, Brittany will take the stage March 27 in Cone University Center, McKnight Hall as one of fourteen featured speakers participating in TEDxUNCCharlotte. She hopes her talk, entitled "Native Culture in the South and Disrupting the Black and White Racial Binary," will be successful and make an impact on both Native people as well as people that are not Native and not Lumbee.
The talk is a natural extension of her educational mission.
"I am excited to give a talk both for my own people and also for people who are non-Native and who are not Lumbee that is salient and impactful for both groups of people," she said. "I am excited about having this major platform that will provide the representation that my people deserve and that non-Natives deserve to be exposed to."
It is a message that resonates — in Any language.