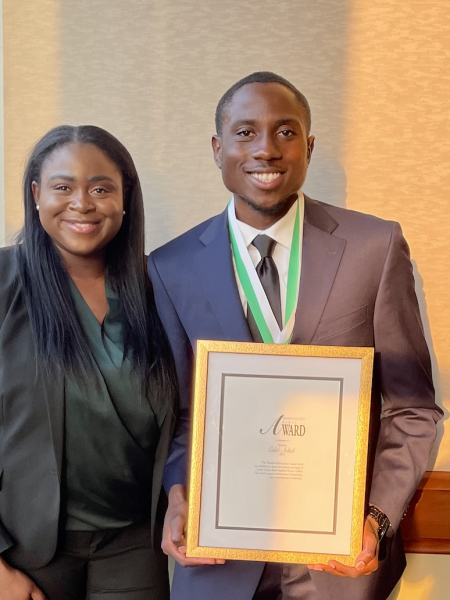 Caleb Achidi Hopeful for Fulfilling Final Year at UNC Charlotte
By Wyatt Crosher, Communications Coordinator for Student Affairs
This spring, Caleb Achidi was awarded with UNC Charlotte's Derrick Griffith Servant Leader Award, an honor bestowed to a first-generation college student of junior or senior standing who has demonstrated leadership through on or off campus service to others, involvement in student organizations/activities and a commitment to mentorship.
The honor is named after Griffith, a former active student and community leader at Charlotte who was dedicated to the service and mentorship of others before his death in 2015.
"In reading through Caleb's application, it was immediately clear to us that he embodies a passion for education, mentorship and service to others," the awards committee wrote of Achidi. "The committee saw several intersections between Caleb and Derrick. Both considered their experience as a first-generation student as a way to lift their voices to assist and lead those around them, and both presented a true passion for the value of education and mentoring others."
Achidi, a business finance major who just finished his third year at the University, has been involved in multiple organizations, including the Campus Activities Board, NAACP, Organization of African Students and the Resident Students Association. 
The committee also noted Achidi's involvement as an intern for Profound Niners and his ventures in financial literacy education with First Generation Investors and Niner Finances as services that stood out in earning the award.
Achidi said winning the Derrick Griffith Servant Leader Award was proof that all his hard work at Charlotte was being noticed.
"It was great to win that award. Being able to be selected as one of the many people who applied was really significant," Achidi said. "It really meant a lot to win this award. It just validated the work I've been putting in."
Originally from Raleigh, Achidi said it was an easy decision to initially come to Charlotte after two other siblings came and loved the campus. Despite the difficulties faced with COVID-19, he has been in or around the campus all three years.
Achidi's favorite year at Charlotte came as a freshman, before the pandemic impacted what he was available to do. He said he's hoping to replicate those experiences starting next fall.
"Being able to be on campus, go to the basketball games, being involved with CAB, just really being engaged with student life was a lot of fun," Achidi said. "I'm looking forward to getting back to that my senior year."
Along with the goal to enjoy his senior year at Charlotte, Achidi's ultimate pursuit is to become a finance teacher.
"Finance isn't something that is always taught in schools, and growing up, I didn't have a lot of teachers that looked like me, whether that be male or Black in general," Achidi said. "Those are the two things that really made me want to pursue an education career."
He's not done at Charlotte yet, but Achidi has already been honored for the service he has put into his three years at the University. His advice for incoming freshmen is to utilize what the campus has to offer, both from faculty and with getting external opportunities.
"Take advantage of the resources. Try to build connections with your professors, whether it be through office hours or just talking with them a little bit after class," Achidi said. "From my perspective as a business major, try and start applying for internships after your freshman year so you can start building your résumé. Take advantage of those professional development opportunities that we have on campus available to students."