Headline
Guyana, South America
Class of 2020
Born:
Guyana, South America
Majors:
Social Work & Sociology
---
Chandradai Chandler will be the first to tell you that she is not your typical student at UNC Charlotte.
At 58, she was the oldest undergraduate selected to be an Orientation Counselor (OC) for the 2018 OC class, but she explains that her people-person personality, life experiences, and the fact that she is an immigrant, a wife, and a mother of two, made her perfect for the job.
"What made it easy for me to communicate with the students was, I prefer being authentic, just being my true self," Chandradai says. "I would joke in my small groups, 'Well, it's obvious I'm not your age, but I have some nuggets to help you be successful during your time here.'"
The Office of New Student & Family Services (NSFS) selects a group of dedicated students each year to serve as OCs. As student leaders, OCs advance the Division of Student Affairs' values by serving as peer educators, group facilitators, performers, resources and role models to approximately 10,000 first-year students, transfer students and their families and guests as they adjust to UNC Charlotte.
Chandradai started at UNC Charlotte in Fall 2017 after completing some general education requirements at Central Piedmont Community College. She was eager to immerse herself in campus life and get involved as much as possible.
One day as she was leaving Atkins Library, she noticed an ad urging students to apply to the OC program and she thought back to her experience with her own OC when she first arrived at UNC Charlotte.
She recalled what a great job the OC did at helping her get to know the campus and transition to University life. Chandradai decided right then that she wanted to give that same support to other students.
"I thought it would be a neat job to help new students, because I was a new student, too, and someone had to help me. I just felt I could be helpful," she says with a smile.
Aside from assisting new students as they find their way around, Chandradai also admits that she wanted to give incoming non-traditional students a face they could potentially identify with.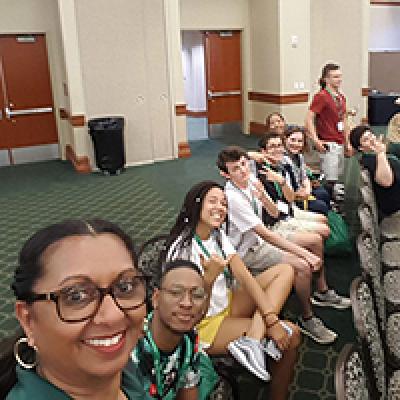 "I wanted to present as a non-traditional student, because when I came for orientation, I could see that the balance wasn't there. So, I wanted to be that familiar face to some of those students who aren't traditional.  Some of them needed to identify with another non-traditional student."
She says students who were part of her orientation groups now come up to her on campus from time to time and thank her for being one of their first resources at UNC Charlotte.
"I had a blast actually meeting students and helping them get familiar with what's important to them as a student," Chandradai adds. "I would be natural and honest with them, and tell them they can ask me anything they wanted to, promising to do my best to answer their questions to the best of my ability."
Like Mother, Like Daughter
Chandradai was born in Guyana, South America, and then lived for a long period of time in Barbados — where her two daughters were born. However, in January 2005 she moved to the United States to support her children while they pursued their education.
"My two daughters were both into the arts, and they wanted to study in the United States. There was not enough opportunity in the arts on a small island," she says.
While her oldest daughter attended school in Florida, Chandradai's youngest eventually found her way to UNC Charlotte and graduated as a 49er in 2015 — two years before her mom would enroll.
What's Next
Chandradai moved to the United States for her daughters to receive the education they wanted. Now that they are grown (her oldest is 37 and her youngest is 31), she is pursuing her own educational dreams.
"I love learning and I didn't have that opportunity when I was younger."
As a double major in Social Work and Sociology and a double minor in Psychology and Gerontology, she is no stranger to hard work. She proudly mentions that she is a straight-A student, despite the challenge of balancing school, work and home — a unique balancing act that non-traditional students often face.
Once she graduates with her undergraduate degree in 2020, she hopes to apply to the University's Master of Social Work Program, and then pursue a career in the Social Work field.
"I want to follow a mental health tract. I have it all planned out, so we will see."
Chandradai just finished applying for internships at Atrium and Novant (the two largest healthcare systems in the Charlotte area) and is awaiting a response from either of those.
Right now, she says, she is very much looking forward to her 60th birthday in April.
"I intentionally tell you my age because I'm really grateful for my life, regardless of all the hardships I have faced in the past. I'm grateful I have good health, I'm of sound mind and I am able to do what I'm doing," she explains. "I want to use the rest of my life to make a difference and help other people. Hopefully, I can be recognized as a change agent."