Class of 2019
Hometown:
Charlotte, NC
Major:
Systems Engineering
---
For Estevan Torres, crafting door decorations isn't just another responsibility of being a Resident Advisor with Housing and Residence Life at UNC Charlotte. He takes this task seriously, not overlooking a single detail.  
He brainstorms and carefully considers themes for each month's designs: footballs during Homecoming season, pumpkins for Halloween and snowmen for winter. Pinterest has become his go-to source for creative inspiration, and once he has his plan of attack and a design sketched out on his iPad, he gets to work.
This is where the precision of a future engineer come into play. Thoughtfully selecting paper and colors to match his theme, Estevan cuts out his design using his personal Cricut paper cutter machine. After carefully gluing all the pieces together, Estevan's decorations are finally ready to be hung on each resident's door.
This intricate process can take Estevan up to 6 hours a month to complete, but he doesn't mind. These decorative touches that he works so hard on show his residents he cares about them individually and also gives them a hallway conversation starter. Estevan uses the conversations that spring up from his hall door decorations as a chance to get to know his residents and check in on how they are doing.
"It's a stress-relief for me … It's not just about the crafting. It's about the conversations that happen after. I feed off of conversation.
I want the students to be successful and aim as high as possible.
Being that role model as a gay, Hispanic engineer who works at the bank I think shows them that they, too, can be successful," Estevan says proudly.
Estevan Torres knew he wanted to be an RA when he first came to UNC Charlotte in Fall 2015 and decided to live on-campus. After attending community college and being in the workforce for several years, Estevan decided to be the first in his family to graduate from a four-year university. Though Estevan's family lives locally, he wanted to fully commit to the college experience when he got accepted to UNC Charlotte and began pursuing a degree in engineering.
That's where the Division of Student Affairs entered Estevan's life and eased his transition to campus life.
"I thought what better way to get involved and immerse myself than to live on-campus and see how it all works," Estevan said. "It really helped me transition and learn about the inner workings of the University. It's not just convenient; it helps you feel so connected to campus."
As a freshman, Estevan lived in Wallis Hall. Immediately, he sought opportunities to get involved with his dorm and, upon seeing how valuable it was to live on campus, he applied to be a RA after that first year.
While he did not get the position he hoped for at first, he was offered a Housing Ambassador position. As a "campus realtor" for incoming and prospective students visiting campus, Estevan would show the different residence halls and chat with families about what UNC Charlotte has to offer and why incoming students should choose to live on-campus.
"I fell in love with how Housing and Residence Life is community-based and offers lots of programs to help students and give them resources.
That was my first foot in the door with Student Affairs and Housing and Residence Life. I thought, 'this is really cool!' I got the chance to encourage students to live on campus."
Estevan applied for the RA position again in Fall 2016. This time, he landed the job in Witherspoon Hall; the following year, he was assigned Wallis, the very hall he lived in during his freshman year.
He finds the job very rewarding and prosperous. His sociable disposition, ability to remember faces, and empathy for others make being an RA a natural fit.
Now in his senior year, Estevan doesn't go anywhere on campus that he doesn't run into someone he knows — whether it's someone who helped him in his own journey as a student, a student he gave a tour to as a Housing Ambassador, or one of his co-workers or residents.
"I like to be a wealth of knowledge for other students. Just helping people and giving advice is the whole reason I decided to become an RA. I fell in love with how everyone was willing to help each other."
Getting to know his residents on a deeper level, and truly caring for and asking how they are doing, is important to Estevan.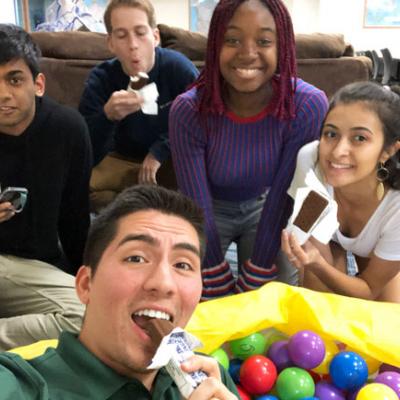 He makes it a point to create connections and meaningful conversation with every student he talks to. Estevan posts a detailed and outlined schedule on his room door each semester, so residents know when they can come see him if they need his help, have a question, need resources or just want to chat. He also makes himself available through email if he is not able to be there in person.
"I want my residents to know: 'I'm listening, I'm here for you.' When I ask them how they're doing, they know it's not me probing them, it's me caring about them because they know I care about my job. I want my residents to know me as Estevan; not 'oh, that's my RA,' but "oh, that's Estevan!'"
Estevan has already committed to a full-time, two-year global procurement analyst program with Bank of America in Charlotte after he graduates in May.
He says he looks forward to coming back to campus frequently to help out in the Division of Student Affairs in whatever capacity he can, but specifically Housing and Residence Life.  
He wants to continue engaging students and drawing on his own personal experiences to show prospective students that it's okay to be themselves, that diversity is widely accepted at UNC Charlotte, and that living on-campus will help them feel more connected to the University.
"No other department on campus is the bread and butter of the student experience as Student Affairs. They provide all the cool, fun, youthful things that keep students engaged on-campus.
This is my home. I truly believe my hall is my home, and it'll be very hard to leave."