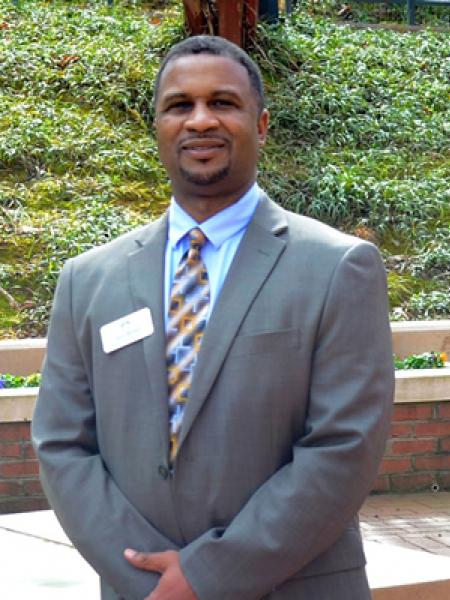 Headline
Associate Director for Operations
As associate director for operations, Leon Brown is responsible for supervising and directing staff in the daily operations of the Barnhardt Student Activity Center (SAC). February 2018 marks his one-year anniversary as part of Niner Nation.
"Joining UNC Charlotte brings my career full circle," said Brown. After graduating from the University of South Carolina with a major in sports administration, he first interned at the Charlotte Coliseum, a 24,000-seat facility that was home to the Charlotte Hornets before they moved uptown. The coliseum was demolished in 2007.
During the last 20 years, Brown has held a variety of event management positions, including assistant director of facility operations for the Charlotte Regional Visitors Authority in the 19,000-capacity Time Warner Cable Arena (now Spectrum Center). He acted as the secondary point of contact for the NBA's Charlotte Hornets and AHL's Charlotte Checkers.
Brown also served as operations manager of the Memphis Cook Convention Center, where he oversaw 30-plus employees and acted as the liaison between potential promoters and the facility.
Now at UNC Charlotte, Brown helps direct the SAC and its Dale F. Halton Arena, a 9,000-seat venue that hosts high-profile events, including commencement ceremonies, new student convocation and Charlotte 49ers women and men's basketball games.
"As associate director for operations, I lead by example while listening and observing my team to offer good support," Brown stated. "Successful events stem from good communication skills. The tools for success are to meet weekly and plan ahead for all events in preparation for the unexpected."
Brown understands the importance of keeping the SAC operating smoothly. Safety is always a priority, but the visitor experience stays at the forefront of his mind.
"To me, if it's graduation, it's important that all parents have that moment to see their child walk across the stage," Brown said, reflecting on the significance of working diligently to ensure that all necessary precautions are made before and after events.
Brown oversees three different shifts of building services and maintenance teams. He also works with technical services as well as 10 student technicians who are responsible for the scoreboards that broadcast the highlights during live events.
In his spare time, Brown is a self-described golf enthusiast. He and his wife, Andrea, are both Carolina Panthers football fans who enjoy attending Charlotte home games. He also enjoys spending time with his daughter Armani and son L.J. and visiting family in Atlanta.
This article originally appeared in Inside UNC Charlotte.