Class of 2019
Hometown:
Fort Bragg, NC
Major:
Public Health
---
Makala Carrington has a presence on campus and it shows.
Sitting at a table at the Cone Center Patio on a sunny afternoon, she waves to friends and UNC Charlotte staffers as they walk by. They all know Makala and shout her name with a friendly wave as they cross the patio.
The graduating senior from Fort Bragg, NC arrived at UNC Charlotte at 17 years old as a graduate of Early College at Fayetteville State University and was eager to jump into campus life.
The summer before her freshman year she attended the University Transition Opportunities Program (UTOP) and took classes to fully immerse herself in all that UNC Charlotte had to offer her from the beginning.
"Any mentoring program or summer bridge you do before coming to UNC Charlotte sets you up for foundation," Makala says. "I had a mentor. I took classes over the summer. I knew campus like the back of my hand. I could walk in confidently on the first day of class and be like 'I know what I'm doing,' and that's what UTOP did for me. UTOP is the reason I have been so successful here."
A passion for Student Affairs
That ambition to be involved didn't stop there. Makala quickly joined Cheer Nation and applied to become a Resident Advisor (RA), which she says was her dream job the moment she stepped on campus.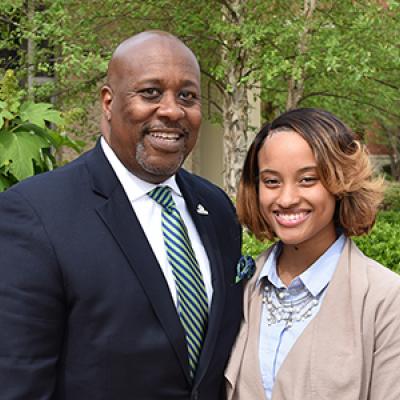 "I will never forget getting the call letting me know I got the position. I was crying on the phone with my former REC who offered me the job. I was like, 'You just changed my life,'" she says. "I saw myself working with students, which is Student Affairs, and I've been doing that as an RA."
During her three years at UNC Charlotte, Makala has built strong relationships with the Student Affairs leadership team, including Vice Chancellor Dr. Kevin Bailey, Associate Vice Chancellor Dr. Aaron Hart and former Senior Associate Vice Chancellor Jim Hoppa (before he retired in 2018).
All have served as mentors to Makala and helped her discover her passion for Student Affairs and how it pairs with her desire to work in public health.
"Dr. Hart and Dr. Bailey are my go-to for everything. Dr. Bailey has opened many doors for me. He sent me to San Diego for a conference for public health. Dr. Hart has reached out to GA positions around the country for me. Jim Hoppa helped me get the RA position on campus," she explains with excitement. "I'm meeting these people in the Division who are doing their job and are here to help. They're not just saying it, they're doing it."
Makala says that before working on campus for Student Affairs, she never knew that there were careers in higher education like those in the Division; jobs devoted to helping students succeed and have an impactful college experience outside of the classroom.
Leaving a legacy
At only 20 years old, Makala graduated from UNC Charlotte in May with her bachelor's degree in public health and is proud of the Niner legacy she leaves behind.
The daughter of a retired Army veteran and a public health worker, the legacy Makala refers to is one of involvement, leadership and service to UNC Charlotte and her fellow students.
The referenced media source is missing and needs to be re-embedded.
"To be successful at UNC Charlotte, it starts by seeing where you want to leave your legacy and what does that look like. Do you just want to come on campus and get your degree? Do you want to get a good job? What are you here for? Are you here to leave your mark? Are you here to take advantage of every opportunity? Are you here to be a leader? What do you want out of it? Once you figure out what that is, you can determine what you need to do to make it happen."
As a RA, Makala has been able to use her public health focus to advocate for sexual health education, contraceptive use, and alcohol, tobacco and other drug safety within her hall.
"I held a 'Sex in the Dark' [sex education] event both years I was in my building and that's now in the Niner blueprint. I'm happy to see that we actually have to do that now. It is very important," she says. "Being a RA is about finding what you like and what you're passionate about and not just trying to go by the book, but actually innovating and reinventing."
Admitting that she is a bit mature for her age, Makala also started a mentor program called Beauty and Brains as part of Cheer Nation; was on the 2018 Homecoming Court; served as president of the Public Health Association, which she now mentors for; held an internship at the Centers for Disease Control and Prevention (CDC) last summer to enhance her public health trajectory; and has participated in numerous leadership opportunities on campus, among other things.
All of that is part of the legacy Makala says she is proud to leave behind when she becomes an alumna.
What's next
After graduation, Makala will begin graduate school for epidemiology and plans to eventually get her Ph.D. She is determined to continue her family legacy of service and join the United States Air Force to serve as a Public Health Officer for 20 years.
Her long-term life goal, though, is to broaden her dedication to public service and student enrichment by opening her own early college like the one she attended.
"It would be called 'Carrington Early College High School,'" she says.
At the moment, she is still in the process of deciding between two graduate schools with UNC Charlotte being one of her options. The decision is a difficult one for her to make, but she is glad that UNC Charlotte could potentially remain her "home" for the next few years.
"When I graduate, I'm going to miss feeling at home," Makala says. "The people here know my name, they know my work ethic, they can look at my face and know that I mean business; I don't have to explain myself when I walk into a room. I have my network and my support system here. If I leave, I'm going to have to rebuild my name all over again."
While the next steps in her journey may be unclear, some things are certain: regardless of the path Makala Carrington takes, her Niner Nation legacy is here to stay, and the future has her name all over it.