By Wyatt Crosher, Assistant Director of Communications for Student Affairs
Ra'Quan Leary's Niner Nation story is one that many students share across the country: he went to the school that made the most sense for him financially.
"Once I came here, I realized I love it here, and that I want to stay," said Leary, a third-year middle grade education major in the Cato College of Education.
Three years into his time at Charlotte, a school he said fell into his lap, Leary was named as the University's second-ever Golden Niner, a singular title replacing the former Homecoming King and Queen, awarded to an outstanding student involved in campus life. The announcement at first came as a surprise, but eventually felt like vindication.
"As you can see in those pictures, I was in shock. I could not believe it," Leary said. "I kept thinking 'Why do I deserve it?' But when I was talking to Ryen (Boleware), the previous Golden Niner, she said 'Why not you?' And I realized I could give more reasons to why I should be picked instead of why I shouldn't be. That made me realize I deserve this, this is my moment, this is what I worked toward."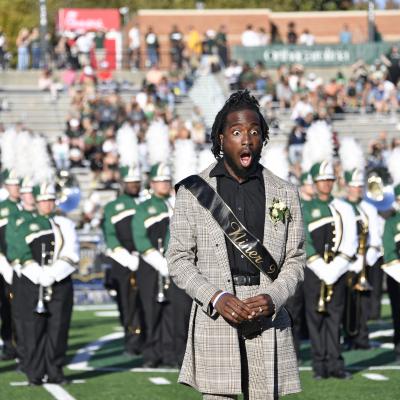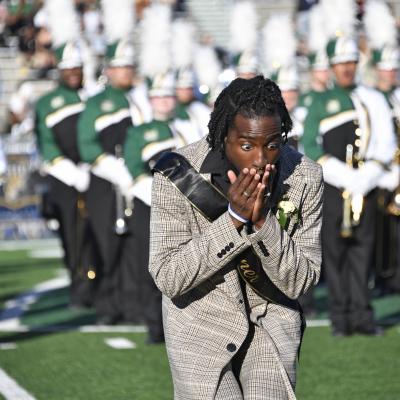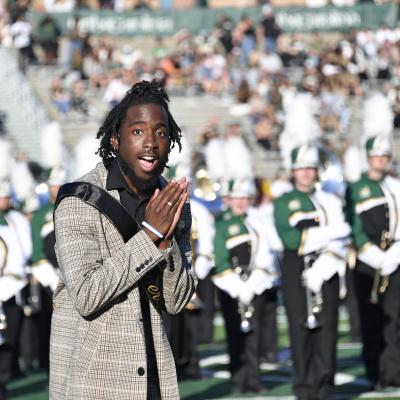 Leary came to the University from Ahoskie, N.C. and immediately joined the University Transition Opportunities Program (UTOP), a summer opportunity for incoming freshman students to begin their college experience early, gain credit hours and build a support system of peers and staff across campus. That experience was so positive that it led Leary to joining Student Advising for Freshman Excellence (SAFE) and Emerging Leaders to engage in more growth experiences and make a positive impact on others.
Being part of those three programs early in his time at the University helped Leary realize Charlotte is where he wanted to be, a place he said felt like home.
After thinking about all of those experiences, plus his involvement with the Campus Activities Board (CAB), National Society of Leaders and Success (NSLS), as well as many others, Leary decided to apply for the Niner 9.
"I have done a lot on this campus in the three years I've been here," Leary said. "Applying was me understanding the impact that I had, and I wanted to make sure I was able to showcase that. I wanted to apply so people in my hometown can say 'He did it, I know I can.'"
Leary won the Golden Niner on Oct. 22 during halftime of Charlotte's Homecoming football game against Florida International. Even though he is more than a month removed from the moment, Leary said he's far from over the excitement of winning.
"It is still surreal to me," Leary said. "This was one of my goals that I worked toward for a year, and to see it actually come to fruition is crazy. It's really a dream come true.
As a junior, Leary will be on campus longer than last year's inaugural Golden Niner winner, Ryen Boleware. Because of that, Leary is excited to show "what a Golden Niner is supposed to be."
"I want people to understand the importance of it," Leary said. "It's a singular title that has so much impact and meaning behind it. I want people to understand what the Golden Niner is because it's fairly new, and I hope to help shape that culture around it."
Following his time at the University, Leary is excited to pursue a career in middle grade education. Becoming a middle school teacher has been a long-time passion of his because of how much children grow at that age level.
"They are one of the brightest groups of individuals. They're in a healthy place where they still are trying to figure out who they are," Leary said. "I love teaching, it's my calling, but I want to be an educator. A teacher is meant to give students the content, but an educator is also a best friend, a mentor, they can even be a therapist or a guardian figure. It's hard being a student, and we need educators that are able to look at them and understand them."
Leary may not have come to Charlotte with the expectations to be heavily involved and to one day hoist the Golden Pickaxe, but once he was here, Leary made it home. His advice for any students coming to campus is to make their dreams a reality.
"Manifest your goals and understand that the sky is not the limit. Nothing is impossible," Leary said. "If you work at your goals, you're going to get it, but nothing you want in this life is going to be easy. Obstacles are not stop signs, they are speed bumps. They may slow you down, but they won't stop you unless you allow them to."