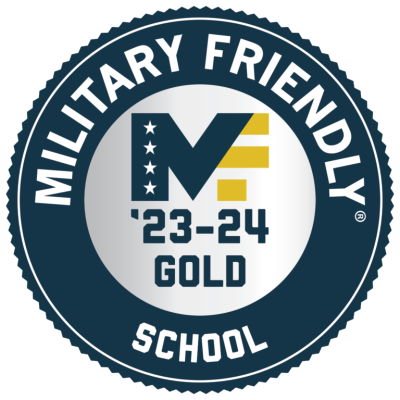 UNC Charlotte earned a 2023-24 Military Friendly School Gold Award for its commitment to military service members, veterans and their dependents.
This is the second consecutive year Charlotte has earned a Gold designation, which denotes the extent to which the University exceeds the benchmark standards for Military Friendly®. More than 1,800 schools participated in the 2023-24 survey, with 250 earning Gold status.
"Over the last five years, UNC Charlotte has seen a 36% growth in the number of students using benefits. This growth showcases the positive environment found on the Charlotte campus," said Bill Wilson, director of the Veteran Services Office. "As an institution founded to serve returning World War II veterans and one that continues to be dedicated to the outstanding service to our militarily affiliated population, Charlotte takes pride in creating an environment that is, not just welcoming to our military affiliated students, but one that embraces them and provides them with outstanding support and opportunities both on campus and in the community." 
In the Military Friendly report, Charlotte hits 100 percent of the standard in all six categories: academic policies and compliance, admissions and orientation, culture and commitment, financial aid and assistance, graduation and career, and military student support and retention.
"UNC Charlotte continues the institution's founding purpose of serving North Carolina's military affiliated students," the report states. "Militarily affiliated students have, year-in and year-out, identified as welcoming and contributing to making their choice to attend UNC Charlotte as a good choice."
Over the last year, Charlotte has added priority registration for all students using military benefits to pay for their education. Priority registration allows any student using military benefits to register for classes at the opening of registration, regardless of their class.. In addition, Charlotte now waives the application fees for all veterans and active-duty personnel.
Also, through the School of Professional Studies, Charlotte continues to invest in programs to support working professionals, active-duty military and veterans. Last fall, Charlotte launched six new online programs, including a fully online MBA.  
The Military Friendly​ Schools list is created each year based on extensive research using school public data sources, input from student veterans and responses to the proprietary, data​-driven Military Friendly® Schools survey from participating institutions.
Methodology, criteria and weightings were determined by Viqtory with input from the Military Friendly​ Advisory Council of independent leaders in the higher education and military recruitment community.
Final ratings were determined by combining the institution's survey responses and government/agency public data sources, within a logic-based scoring assessment. The institution's ability to meet thresholds for student retention, graduation, job placement, loan repayment, persistence (degree advancement or transfer) and loan default rates for all students and, specifically, for student veterans is also measured.
This is one of several recent rankings in recognition of Charlotte's support of active duty service members, veterans and their families. UNC Charlotte is also listed among the U.S. News & World Report's "Best Colleges for Veterans" for 2022-23, and is a "Best for Vets" school by Military Times.  
For more information about campus veteran resources, visit Veterans Services.