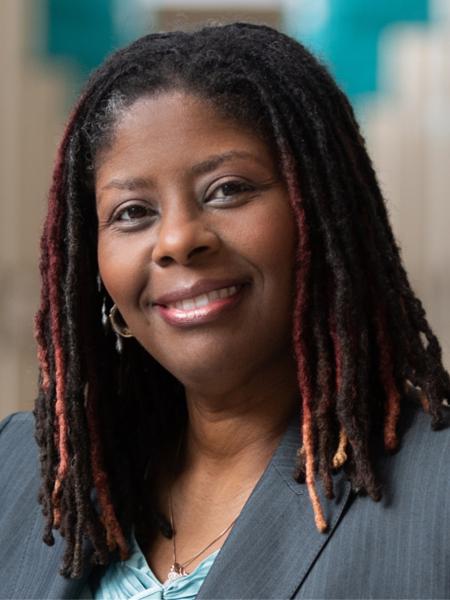 By Wyatt Crosher, Communications Coordinator for Student Affairs
When Dr. Re'Shanda Grace-Bridges came to UNC Charlotte, she was an out-of-state student from New Jersey interested in studying biology.
As a pre-med student at the University, Grace-Bridges did ultimately graduate in 1995 with a bachelor's in biology, but now looks back at her time at Charlotte as the start of her student affairs career.
Now with master's and doctoral degrees, Grace-Bridges' lengthy career in student affairs spanning multiple universities. Currently, she is the director of Student Transitions and Family Programs at Coastal Carolina University, a role she never would have earned if not for her first experiences at Charlotte.
"Everyone thought I was a student affairs person, but I didn't know what student affairs was like most young people when they come to school," Grace-Bridges said. "Because I was pre-med, I was told to have a backup plan if you don't get into medical school. Student affairs was my backup."
Grace-Bridges decided in her fourth year at Charlotte that medical school was not the path for her. When she reflected on all her experiences within student affairs, including as a resident advisor and orientation leader, Grace-Bridges decided to pursue a master's program in the field.
"Best decision I ever made. This field has been really good to me," Grace-Bridges said. "It was Charlotte saying 'Here's this backup, did you know this thing existed?' I think about the people that were there to help me, who believed in me. Now, what my students do, what I trust my students with and how much I believe in the capabilities of student employees, all of that came from my exposure at Charlotte."
After earning her Master of Science in educational administration at Texas A&M, Grace-Bridges has worked at the University of Texas at San Antonio (UTSA) and the University of Dayton before arriving at Coastal Carolina in February 2021. While at Dayton, she earned her doctorate in educational leadership and administration.
Grace-Bridges said one of her favorite things about the student affairs field is the ability to improve the lives of students every time she comes to work.
"Every day that I put my feet on the ground, get dressed and go into work, I have the opportunity to impact someone's life in ways that I know, and in some instances, ways that I have no idea," Grace-Bridges said. "If that isn't a blessed living and an amazing way to walk through life, then I don't know what else is."
While she has not been directly involved with Charlotte since graduating in 1995, Grace-Bridges said she has been back to campus for nearly every homecoming game. She also gets lost whenever she tries to navigate around a campus that has changed dramatically in the past 27 years.
Despite not knowing her way around as much as she used to, Grace-Bridges still looks back fondly at her Charlotte experience, which helped pave the way for the career path she fell in love with.
"UNC Charlotte helped me to begin to mature and become an adult, and it helped cement some of the most important people in my life," Grace-Bridges said. "What else can you ask for?"