By Wyatt Crosher, Communications Coordinator for Student Affairs
UNC Charlotte administrators shared best practices and experiences with administrators and student leaders from across the UNC System during a two-day financial literacy conference. 
The UNC System's inaugural Financial Literacy Symposium, hosted at UNC Charlotte Nov. 3-4, aimed to help UNC System universities launch sustainable and responsive student-focused financial literacy programs on their campuses, following a model set by UNC Charlotte. Charlotte launched Niner Finances, the system's first comprehensive college student-focused financial literacy program, in 2020. 
"Managing money is one of the most critical life skills students can learn while they're in college, yet so many students graduate with only a minimal understanding of the basics of financial management," said Dr. Brad Yeckley, founding director of Niner Finances and organizer of the symposium. "This symposium is an opportunity to share our lessons and successes with system schools to provide a blueprint for similar programs across the state to support and educate our students."
Niner Finances, part of the division of student affairs, now includes a full-time assistant director and 10 student peer ambassadors. 
Last year, Niner Finances delivered 106 presentations or workshops to approximately 5,113 students and accepted 228 individual coaching/counseling appointments. Yeckley was named the 2021 Educator of the Year by the Institute for Financial Literacy at the Excellence In Financial Literacy Education Awards.
About 60 administrators and student leaders representing 15 UNC System institutions attended the symposium, which was sponsored by Fidelity Investments.
"As public universities, we have a responsibility to make sure we're preparing our students, not only to be successful academically but also to be financially successful in life," said UNC Charlotte Chancellor Sharon L. Gaber, who spoke during the event. "This symposium is a strong first step as we partner within the UNC System to discuss best practices and develop a financial literacy model that can support our students and position our state as a nation model."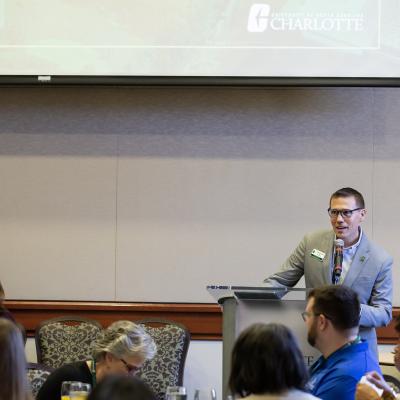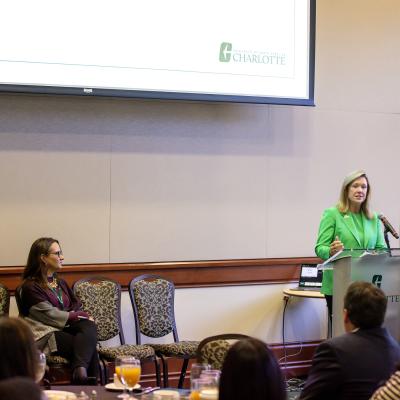 Left: Dr. Brad Yeckley, Director of Niner Finances; Right: UNC Charlotte Chancellor Sharon L. Gaber
Another highlight of the event were the sessions focusing on student perspectives on financial literacy. Charlotte alumna Maria Garcia '20 spoke about her financial wellness journey. Niner Finances assistant director Nicole Benford and three Niner Finances peer ambassadors  – Caleb Achidi, Justin Howard and Carsen Schafer –  shared how important basic budgeting, debt management, and developing good saving habits can be when you are a college student, and how they set the stage for lifelong healthy financial decision-making in the future. 
Other speakers included: Beth Crigler, Charlotte's interim vice chancellor for University Advancement; David English, acting senior vice president for Academic Affairs and Chief Academic of the UNC System; Leigh Penniman, senior vice president, Fidelity; Gilbert Rodgers, Director of Financial Wellness, University of Oregon; Phil Schuman, executive director of Financial Wellness & Education, Indiana University; Joe Ciccariello, senior vice president, Fidelity Workplace Investments; Jillian Peete Hamilton, director for corporate social responsibility, TIAA; and Atticus Simpson, director of Truliant Foundation, Truliant Federal Credit Union.
The symposium concluded with a program proposal building workshop and a discussion about the next steps, including contact sharing so that the symposium becomes the first step in what will become a comprehensive vision for financial literacy education in North Carolina.
"Financial literacy and education is a critical skill for success in work and success in life," Dr. David J. English, acting senior vice president for academic affairs for the UNC System, said. "The UNC System is committed to helping provide students with the tools and resources they need to make informed decisions, and commend UNC Charlotte for taking a leadership role in making this happen."
For more information on upcoming financial literacy events and education at Charlotte, visit Niner Finances.