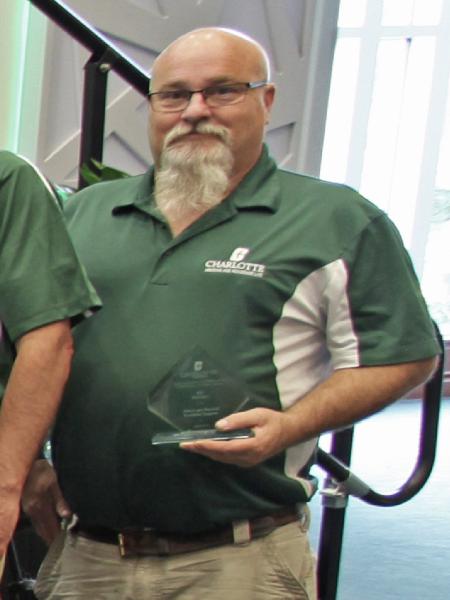 Headline
Inventory Technician
Housing and Residence Life
Ballinger Makes Speedy Impact at UNC Charlotte
By Wyatt Crosher, Assistant Director of Communications for Student Affairs
For 35 years, Bill Ballinger drove past UNC Charlotte on his way to work at a nearby chemical business. It wasn't until June of 2022 that Ballinger parked himself at the University in Housing and Residence Life as an inventory technician.
The experience was a big change, from little things like being able to grow a beard, to the new challenge of navigating more than 30,000 enrolled students.
"All the people, all the students — I was just a little bit overwhelmed with the general population of this place," Ballinger said. "It's unbelievable."
But, after all that time working just down the road, it took Ballinger less than a year at Charlotte to earn recognition for his efforts.
Ballinger received the Above and Beyond Award for Facilities Support at the Student Affairs staff awards celebration this past May. Among the many qualities that made Ballinger a candidate for this award, his warm presence and positive attitude stood out to his peers. 
"Bill is a fabulous employee, a huge asset to our department and so very deserving of this award and recognition," the nomination stated. "Bill's customer service skills are exemplary. He is one of the friendliest people I know, and always arrives with a smile on his face and a happy greeting for his co-workers."
Winning the award meant a lot to Ballinger, knowing that his peers believed he made a difference within the department. 
That said, Ballinger doesn't feel he did anything extraordinary to earn the honor.
"It was awesome, but I'm not deserving of it," Ballinger said. "It's just in my nature to help people and do anything that's needed. That's the best part about being here: the interactions with so many different people."
Ballinger said his day-to-day responsibilities often involve running errands for whatever is needed. This can include helping building service technicians put in orders for materials, keeping supplies stocked or moving furniture. He also works with a student staff that do supply runs for the storage room. Ballinger said students help him with "just about everything."
Outside of the office, Ballinger enjoys woodworking, more for the craftsmanship than the profit. He has made end tables, benches and was recently in the process of making a student a bookcase.
Another passion of Ballinger's is gardening, which was highlighted in his Above and Beyond nomination.
"Bill brought in a load of flowers available to whomever wanted to take home and plant in their own garden," it said. "On top of completing his work in an extremely satisfactory manner and with a high degree of professionalism, Bill is just a truly great person."
Ballinger is excited for his second year at the University, especially as someone who likes to stay ahead of the curve.
"I feel better prepared," Ballinger said. "I'm trying to stay ahead, and I think that's one thing they recognized in me was that I don't just wait to be told. I wanted to know what's coming."
After all those drives past the University, Ballinger is entering his second year at Charlotte full speed ahead.