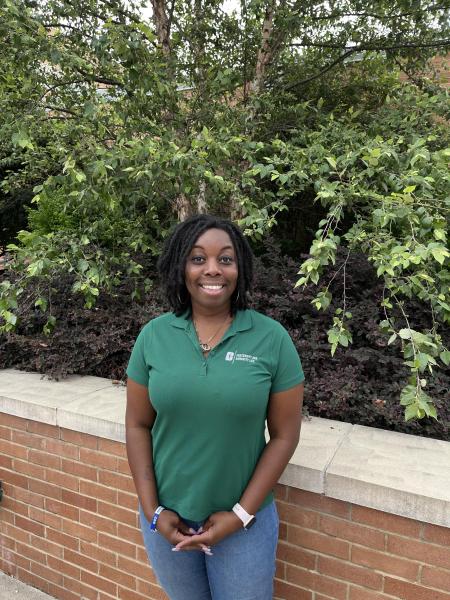 Headline
Administrative Assistant
Office of Fraternity and Sorority Life
O'Garra Earns Above and Beyond Award in First Year with UNC Charlotte
By Wyatt Crosher, Communications Coordinator for Student Affairs
Tierra O'Garra started her role as administrative assistant for the office of Fraternity and Sorority Life (OFSL) in July 2021. She has only been at UNC Charlotte for just over a year, but O'Garra has already made an impact on her peers.
O'Garra was named the Above and Beyond Award winner for administrative support at the Student Affairs End-of-Year Celebration in May. In the nomination written on her behalf, it was O'Garra's dedication to her position and the energy she brought to the OFSL office that made her stand out as the choice for the award.
"She is the first in the office, first on the phone, and first one asking 'What do you need to make your life easier?' and 'What else needs to be done?' Fraternity and Sorority Life simply would have not made it this year without Tierra going above and way beyond what is expected in her role," the nomination said of O'Garra. "In addition to being an incredible professional, she is kind, encouraging, a natural team player and brings joy into our office. She is the front line of Niner Nation spirit for us and we are simply in her debt. 
"Tierra deserves this award, not only because of how great she is at her job, but because she believes in this work, she believes in our students and she believes in Niner Nation."
Though O'Garra said the nomination was exciting, she did not expect to win when looking at the other finalists. But when the choice's qualifications were being read and it was clear that she did win, O'Garra said the honor moved her to tears.
"I cried," O'Garra said. "When I first got the nomination, I was like 'Oh, for real? OK cool, people like me!' But I had gotten over that initial shock. Then, when they started to read the nomination, I was really floored. I'm honored to know they thought that much of me to nominate me, and that I've really made an impact in this office in so little time."
O'Garra described her path to Charlotte as a "weird" one. The Raleigh native graduated from Winston-Salem State with a bachelor's in mass communications. Her first careers out of college were in call centers before quickly realizing she wanted to be in administration.
Her higher education career started at North Carolina A&T, then to UNC Greensboro, working in the treasurer's office and advancement, respectively. O'Garra said she learned a lot at both universities before a personal move to South Carolina necessitated a change.
"That's what began my search around this area," O'Garra said. "I saw the posting for Greek Life at Charlotte. I'm a member of Zeta Phi Beta Sorority, Incorporated and I advised Zeta Greek chapters in Greensboro. I thought this would be the perfect personal and professional mix."
Even though O'Garra had prior experience in higher ed — and in the UNC system — she said it was an adjustment to be more directly involved with the students on a day-to-day basis. But she has really enjoyed that part of the position, and said that the OFSL office helped by welcoming her with open arms.
"Getting to know the students has been really great. They come in and hang out with us here and there, that's been really nice," O'Garra said. "You know how you hear companies that say they're a family and it can come off cringey? When I came here, I actually felt like it was a family. We really care about each other. We do the work and we have fun. It's a really great balance, and it's helped me really enjoy my time here."
In her brief time at the University, O'Garra said the standout moment has been watching students go through Panhellenic recruitment and "running home" to their respective sororities across the football field on bid day. Within the office, she loves when the OFSL team comes together and eats around the conference table.
Moving forward, O'Garra is looking forward to the start of the fall semester, which includes the NPHC yard show, the start of recruitment and everything else that comes with the new academic year. 
Above all, O'Garra, fresh off an award-winning first year at Charlotte, is excited to do it all over again with more experience and a new set of students.
"Now I know what to expect and where we're going each day, I'm really excited about that," O'Garra said. "But really, it's the students. We haven't seen them really since the end of April. Some of our favorites have graduated and we miss them, so I'm excited to get to know some of the other members of the chapters who have taken over new positions."