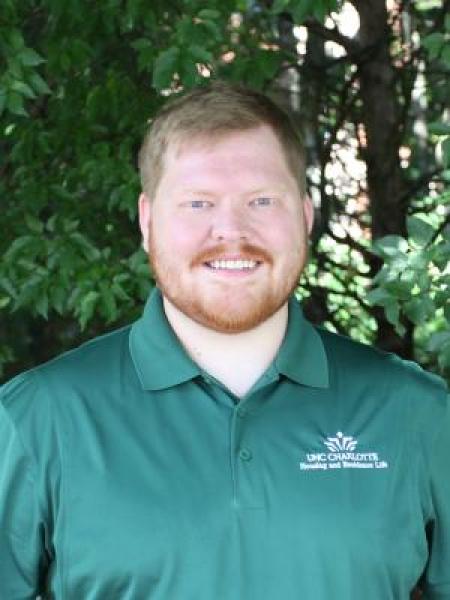 Headline
Residence Education Coordinator
Housing and Residence Life
Cyrus Finds Stability, Earns Honor in First Year at UNC Charlotte
By Wyatt Crosher, Communications Coordinator for Student Affairs
The journey to a career in student affairs was an unexpected one for Donovan Cyrus.
While he was a college student at Morehead State University in Morehead, Kentucky, Cyrus said some friends told him to apply for a resident advisor (RA) position so he could pick his room and roommates while also making some money.
Cyrus ultimately got the position, but found more benefits once he took on the responsibilities of an RA. From the staff and students he worked with to building a community and being able to make an impact in students' lives, Cyrus ultimately continued down the student affairs path into student director and enrollment services counselor positions.
After nearly two years as a assistant residence hall director at Ball State University in Muncie, Indiana, Cyrus came to UNC Charlotte as a residence education coordinator for Housing and Residence Life (HRL) in June 2021, drawn by the University's openness to making changes when needed.
"The thing that really drove me here was the constant change and the 'What can we do to be better?' attitude, even if it's just the minor things," Cyrus said. "I like a place that's always really open to change and having those conversations."
Within a year of arriving at Charlotte, Cyrus was able to make his own change in a positive way, earning the Rookie of the Year Award at the Student Affairs End-of-Year Celebration this past May.
In the nomination, Cyrus is highlighted for making Sanford Hall, where his office resides, "a more lively place to live by being present, dedicated and an advocate for the hall." It also stated that, in his first year out of graduate school, Cyrus "works like he has been doing this for years."
"Donovan Cyrus is most worthy of this recognition because of the unmatched energy, commitment and determination that he brings to his role at Sanford Hall on a daily basis," Carla Hines, associate director for administration in HRL, said. "I am truly amazed by his laser sharp focus on continuous improvement. He is truly a treasure on our team."
Cyrus said the award meant a lot to him because it came from both staff members and students he has worked with. He also said it was proof that he's doing the right things to make the impact he was hoping for at the University
"It felt like I didn't just do my job, but I did my job and then some, and that felt good," Cyrus said. "As long as I can make a difference in one person's life, I've done what I needed to do. The award affirmed that I made a difference in more than one person's life in the year. It helped me feel confident in my ability to do what I'm doing."
With a year under his belt, Cyrus said he has developed a lot within his position. That growth has come through becoming a more thoughtful individual with the students he works with every day.
"This position has made me have a lot of patience and understanding," Cyrus said. "Something that seems small may be the most urgent thing in a student's life, so I need to make sure that I make that a priority and sit with them through that and try to help as much as I can, even if I don't have the full answer."
Looking forward, Cyrus said he is happy to be back in year two of his position in his same office at Sanford Hall after switching jobs or locations every year since initially becoming an RA seven years ago.
"This is the first year that I get to stay in the same building with a lot of the same student staff members from last year," Cyrus said. "Continuing the great work that we did and still supporting all those new residents that we have, including some of those returners, that's what excites me."