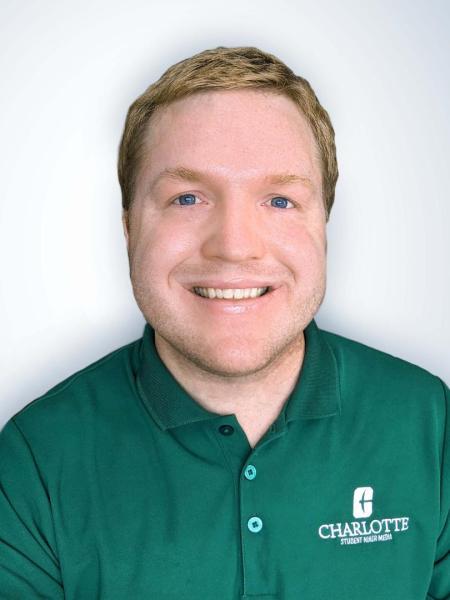 Headline
Assistant Director
Student Niner Media Advising and Support
Wood's Return to Charlotte an Unexpected, but Fulfilling Decision
By Wyatt Crosher, Assistant Director of Communications for Student Affairs
When Joshua Wood graduated from UNC Charlotte in 2016 with a bachelor's in fine and studio arts from the College of Arts + Architecture, he expected to be closing the book on his time with the University.
As part of a military family, Wood traveled all over throughout childhood. His family ended up settling in south Alabama by the time he was graduating.
"It was not in my plan at all [to come back to Charlotte]," Wood said. "I had no real roots here. I felt like I could go anywhere." 
Despite that, when a familiar job opened up, Wood applied. He's been back at Charlotte ever since, first as production and graphic design coordinator, and now as assistant director for Student Niner Media Advising and Support.
"I saw the position open up, and I was chatting with the person who was in that role previously to see if it would be a good fit," Wood said. "He highly encouraged me to go for it. Six years later, I'm still here, so I must really like it."
Before Wood made the decision to return to Charlotte, he first made the decision to come as an undergraduate student.
When he initially applied to the University, Wood was living in Japan, and Charlotte offered him a fine arts program with an illustration concentration. But Wood's first connections to the Charlotte area came from some early memories in his childhood.
"My mom used to work for US Airways, and I have this vague memory of the Charlotte airport and as a kid thinking it was so cool," Wood said. "So as a high school senior when it was time to pick a city, I thought 'well, they have a good airport, so they must have a good city.'"
As an undergrad, Wood found his way to the Niner Times. He had yearbook experience at high school, as well as previous experience with school newspapers. When Wood saw a flier on Holshouser Hall recruiting people to write for the paper just two months into his Charlotte tenure, it made sense to join.
While working in Student Niner Media, Wood started as a staff writer, then went on to be a desk editor for the opinions section before ultimately becoming associate editor, then editor-in-chief, for the Literary Arts Magazine known then as Sanskrit. The name of the magazine has since changed to Nova.
That undergraduate experience led to a full-time position.
"It definitely helped me jump right in. There weren't many questions I needed to ask," Wood said. "For someone else starting in this program who is also new to the school and the city, there's probably more of a learning curve there. For me, I already knew the school, the city  and the program, so it didn't feel like much of a risk for me figuring things out."
Wood's day-to-day primarily consists of answering questions from students. He oversees a lot of the areas he used to work in, and he balances that with assisting the marketing area and helping fill in the gaps for the ideas the students come up with. 
Those aspects are some of Wood's favorite components of his position.
"I love being around the students. There's a lot of creativity and problem solving to watch them walk through, and it's a great energy to be around." Wood said. "I also like working in student affairs. It's a very collaborative environment, and I feel like we get to try anything at least once. There's not a lot of hurdles you need to jump through to get what you want."
Wood's efforts culminated in a Most Valuable Niner award at the Student Affairs End-of-Year Celebration this past May. He said the award meant a lot and appreciates the validation for the efforts he has put in.
"It was great to hear, my coworkers Kelly [Lusco Merges] and Laurie [Cuddy] texted me as soon as it was announced," Wood said. "It was a nice reaffirming moment that, even though a lot of the work goes unsung and unrecognized, it feels good to be seen every now and then."
From not planning to return to the Queen City to earning an award for being the Most Valuable Niner in Student Affairs, Wood has found his place at Charlotte. His advice for those interested in a similar path is to always keep an open mind.
"Don't be afraid to put your work out there and get started in anything," he said. "Once I graduated, although it wasn't really what I thought was my ideal job, I took a part-time job working in the art gallery with social media. Be open to new avenues. That's how I got here. This wasn't on my road map, but the opportunities presented themselves and I took them."