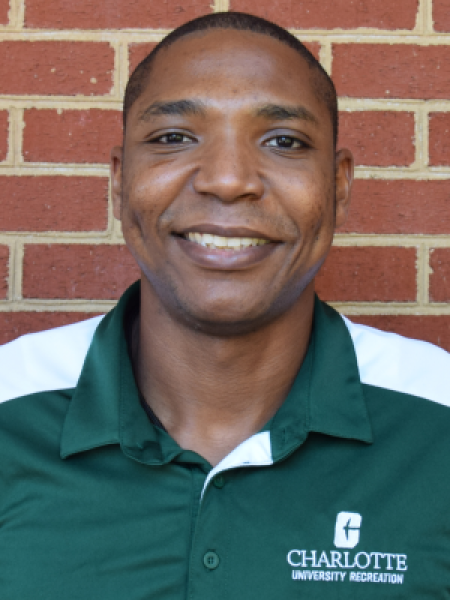 Headline
Assistant Director for Open Recreation
University Recreation
Washington Enjoys Opportunity to Make a Difference Working in Student Affairs
By Wyatt Crosher, Assistant Director of Communications for Student Affairs
When Chris Washington was an undergrad at Louisiana State University, his plan was to become a meteorologist. Until the forecast changed.
After graduating from LSU as a geography major, Washington sought a new path. Following conversations with his supervisors at the time, the New Orleans native decided to pursue a career in higher education, eventually finding a graduate assistant position at the University of West Florida, where Kevin Bailey, Charlotte's current Vice Chancellor of Student Affairs, was the Vice President for Student Affairs at the time.
It was at West Florida, in a position that required him to do a variety of tasks, that he found his calling in student affairs.
"When I first graduated from LSU, it was more like a 'Let's try this and if not, let's see what else sticks out.' But at the end of my first year of graduate school, going into my second, one of the things I loved about my graduate program in higher ed was the different, various roles I was taking," Washington said. "With West Florida being a smaller school, you're wearing a lot of different hats. Being exposed to different roles at my graduate program got me really invested in student affairs, and allowed me to say 'OK, let's do this as a career.'"
Washington graduated from West Florida with a student affairs administration degree in May 2018. Three months later, he accepted a role at UNC Charlotte as coordinator of student development and engagement for University Recreation (UREC). 
Now, as UREC's assistant director for open recreation, Washington's favorite components of the job are his ability to make a difference, both on the University and during his interactions with students.
"One of the things when I first got here that still stands out to me is that Charlotte's still such a growing campus that's trying to find its niche with tradition, which opens up a lot of opportunities," Washington said. "But also, seeing the value of Niner Nation Gives, being able to see those scholarships be given back for the students, has been impactful. And within UREC, one of my former staff members, she's now a graduate assistant at Georgia. Being able to see her development, to see the opportunities of why we do this and why we continue to do it, has been really important to me."
In his current position, Washington is often keeping up with the day-to-day happenings at UREC and Belk Gym, including the student staff schedules, events and potential reservations, as well as working with campus partners on various policies and projects.
His efforts at the University were honored at the Student Affairs End-of-Year Celebration last May, where Washington received the Rising Star award, which recognizes an employee with 3-5 years of service at Charlotte who has contributed to the success of the division and their individual departments through their use of personal initiative, analytical and critical thinking skills and problem-solving capability.
Though Washington is not a person who looks for awards with his work, he said earning the honor was a positive sign that his efforts are valued by his peers.
"Winning that award, it was a testament to continue doing the work," Washington said. "It made me realize that my work has been impactful, and it made me think about what I need to do to make that impact keep happening. It spoke to my heart in that, even during the hard times when things are crazy, 'No, you're doing a great job, continue doing what you're doing.'"
Making that impact is what Washington was recognized for, and it is what he feels is the most rewarding part for anyone who seeks out a position in student affairs.
"This profession will have different ups and downs, but we work in a service field that is giving back to people," Washington said. "It is an altruistic career where you may not see the gains now, but you will see the gains later. That's something I truly enjoy. For people that look for purpose, this career easily gives you that. It's a career path that you give love to, and it makes a difference."