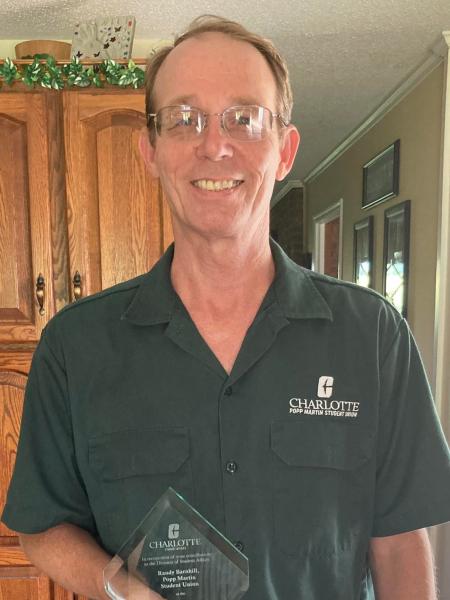 Headline
Maintenance Technician
Popp Martin Student Union
Barnhill Honored After More Than a Decade at UNC Charlotte
By Wyatt Crosher, Communications Coordinator for Student Affairs
There's something about a fresh coat of paint that makes a building feel brand new. It is also an important part of any maintenance plan to keep student-fee funded facilities looking and operating at their best, a task that takes many hands.
These jobs can sometimes go unnoticed. But Randy Barnhill, maintenance technician at the Popp Martin Student Union, had his efforts recognized at the Student Affairs End-of-Year Celebration in May with the Above and Beyond Award for facilities support.
According to the written nomination:
"We can often hear Randy Barnhill working before we see him. In the early hours of the morning before students occupy every chair in the Student Union, Randy is listening to music while painting. Painting the walls in the stairwells green, repainting the places we have all run into with our backpacks or carts, covering up the fingerprints on the walls, and making sure the railings are smooth so no one cuts their hands on jagged paint.
"Over the past year in particular, Randy has painted the enormous walls in the staircases as the Popp Martin Student Union team updates the Union and brings in more UNC Charlotte icons throughout the facility. He has been instrumental in the project, bringing green throughout the building to highlight particular spaces."
His supervisor, Ernest Purifoy, maintenance supervisor, adds, "Randy is a hard worker and is very detail oriented." 
Barnhill's efforts past his job description were noted, including his positive demeanor and selfless attitude.
"Randy's work doesn't stop with the maintenance and improvements he brings to the Popp Martin Student Union. He is also incredibly welcoming and supportive of the students and University community in general," the nomination stated. "He will stop what he is doing to grab the door for someone and he makes sure to acknowledge you whenever he sees you. Randy helps make the Popp Martin Student Union feel like a community."
Barnhill has been at the University as long as the Student Union has, arriving at Charlotte when the doors were opened in 2009. Prior to that, he had worked a variety of side jobs.
The move made sense for him at the time, and has continued to be a job he's enjoyed for the past 13 years.
"It's been really cool for a house painter," Barnhill said. "It's been good having a stable, steady job with good benefits. All of it has been perfect for a guy my age."
Barnhill said it was surprising to win the Above and Beyond Award because, to him, everything he does for the University is business as usual.
"It was nice to hear," he said. "I try to stay busy, but I really don't feel like I go above and beyond. I just stay busy and try to earn my keep."
Family is a key passion for Barnhill outside of work. He said he's "become quite a family man" thanks to his three kids and seven grandchildren.
Over 13 years at Charlotte, Barnhill has seen the Popp Martin Student Union continue to evolve, both in its decor and with the students that come through the doors each day. And, even though awards aren't usually his thing, Barnhill said it was gratifying to win the award for his hard work.
"It was cool to get appreciation," Barnhill said. "I'm not really a guy that's into recognition, it's not something I need, but it's cool. It was a surprising honor and very nice to hear."