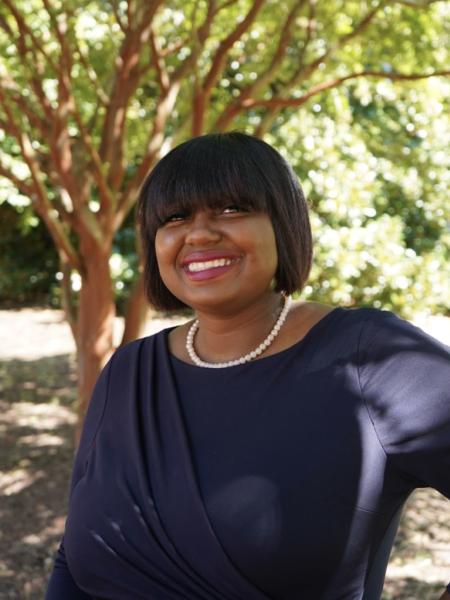 Headline
Assistant Director for Case Management
Student Assistance and Support Services (SASS)
Crosland Strives to Make Difference at UNC Charlotte
By Teagan Welch, Assistant Director of Communications for Student Affairs
Making a difference in others' lives has been a lifelong career goal for Janay Crosland.
After attending UNC Greensboro to receive her graduate degree, Crosland knew she wanted to work in higher education.
"I made it a goal that at some point in my career, I would come to Charlotte," Crosland said.
That's when Crosland saw the job posting for assistant director for case management in the Student Assistance and Support Services (SASS) office at Charlotte, a role she assumed in April 2022.
"I was excited, because it felt like a perfect melody of my passion for student advocacy and student support," Crosland said. "I wanted to come to a place where there was a robust young professional network, with opportunities to get involved in the civic side of things." 
Crosland is no stranger to that civic side. In her free time, she enjoys helping out around the community. Crosland is a member of the Lambda Upsilon Omega Chapter of Alpha Kappa Alpha Sorority, Incorporated. Their focus is to help children in elementary and middle school, by providing free meals and mentorship programs to K-12 students. 
Although her extracurricular activities keep her busy, Crosland still has time to dedicate herself to her career. For her efforts, she was nominated for, and won, the Rookie of the Year award for the Division of Student Affairs.
"It's truly surreal," Crosland started. "I feel honored by the opportunity to represent our division. I don't quantify my accolades, so it feels heartwarming to know my work is not going unnoticed."
The Rookie of the Year award recognizes employees who have contributed to the success of Student Affairs and their individual departments through their use of personal initiative, analytical and critical thinking skills, and problem-solving capability. 
In Crosland's role, she offers academic support, withdrawal services and other student-facing programming to ensure the needs of Charlotte students are met.
One of those programs she is particularly passionate about is Swipe Out Hunger which aims to provide students who are food insecure, and/or who are experiencing an emergency situation, access to healthy and well-balanced meals in Charlotte's on-campus dining halls.
Crosland says she's happy she's able to make a positive impact on the students she helps in her day-to-day.
"I'm energized in my role daily. I love working alongside students and helping them feel a sense of belongingness. Anything to make sure their needs are met," Crosland explained.
"It's important to make a difference."