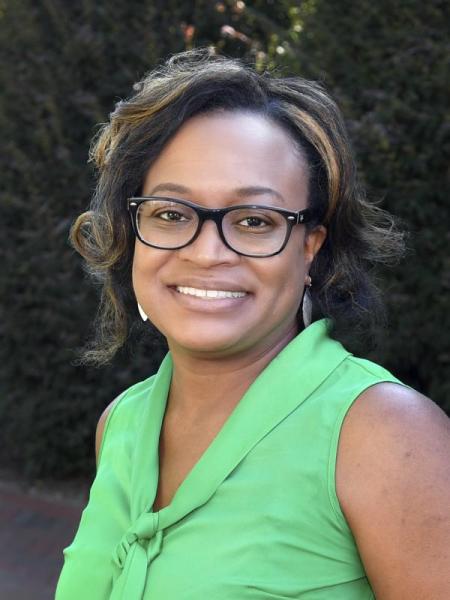 Center for Integrated Care
Norwood Enjoys Collaboration, Creation Possible at UNC Charlotte
By Wyatt Crosher, Assistant Director of Communications for Student Affairs
Leigh Norwood's desire to start a social work career came down to one thing: wanting to help people as directly as possible.
On her way to becoming UNC Charlotte's Center for Integrated Care (CIC) director, Norwood has been in a multitude of positions, all of which utilize that desire and her master's in social work.
Norwood has been a mental health therapist, has worked with the police department providing acute trauma therapy and did intensive in-home work before coming to the University 10 years ago.
"I had an interest in working directly with individuals from a person-centered lens," Norwood said. "Not all aspects of psychology allow you to work directly with individuals (and families), so social work was the path that took me there."
Since arriving at Charlotte, Norwood had been working in the Center for Counseling and Psychological Services (CAPS), but took over as the University's first director of the CIC last year.
The CIC works as a one-stop shop for referrals and connection to wellbeing resources both on and off campus. Its purpose is to be a front-facing clinical case management department that provides coordination of care and continuity of care services. The Center also provides outreach and programming to encourage and provide more access to care for students who may be ambivalent or unsure about more formal wellness services. 
Norwood said her prior experience in a variety of roles, including positions prior to her time at Charlotte, assisted her with moving into this director role.
"It really helps shape your lens as to how you can help be that agent of change for those that might need your assistance or support," Norwood said. "Once you're in different spaces in social work, it can give you a different vantage point on how you can help provide resources to students, families or other individuals."
The CIC began on campus in the Fall 2022 semester, and Norwood said things have moved quickly within the Center over the past six months.
"Things have just been taking off and rapidly evolving," Norwood said. "It's been exciting to create something new, to be a part of a new initiative within Health and Wellbeing at the University."
In her decade at Charlotte, as well as within her first year as CIC director, Norwood's favorite piece of her position has been the ability to collaborate with other departments, both within Student Affairs and at the University at large.
"In the 10 years I've been here, I've been able to serve on different committees, I've been involved with different initiatives, and the Center for Integrated Care is now an opportunity for us to bolster these campus partnerships," Norwood said. "I recognize that we don't have all the answers, so it's very important for us to tap into the expertise of other folks within every other entity on campus in order to make this a very enriching experience for students."
Norwood said she's excited to increase education for both students and campus partners about the CIC's services on campus, a goal that's continued since the Center's launch in July. The most important piece of information Norwood wants the University community to know is that feeling stressed about not knowing where to find support is OK.
"There are a ton of resources on campus and within the Charlotte community, so it's totally normal to be overwhelmed trying to figure out which one to begin with or which one is the right fit," Norwood said. "I really think that the Center for Integrated Care is a great place to help figure that out. We are able to point you in the right direction. Things can get overwhelming and I totally get that, so we want to help narrow things down for you so that you might be able to get connected to the resources that support your wellbeing, in all dimensions."